Colorful hard pouchs for NDSL Released
관리자
|
2009.08.02 00:00
|
view
6059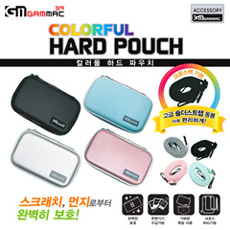 Colorful hard pouchs Released
December 2008
DS Lite colorful hard pouch is performed.
It is designed for DS Lite game console and can protect it safety. More large space is designed for other peripheral equipments (earphones, touch pen, cable, etc.), the pouch is available for purchase.
present of straps is easy and convenient to carry the pouch with shoulder, Total of 4 different colors (black, silver, light pink, light blue) can be selected, and there are same color strap gifts for buyer.
Product Name

Colorful hard pouch

Contents
Cross hard Pouch 1
 Stylish Strap 1
Colors

black, silver, light pink, light blue

Package

Color box

Carton Size

Amount package
All Products do not contain game consoles




News

| no | title | name | hit | day |
| --- | --- | --- | --- | --- |
| 11 | New Dawoori accessories for DSI Released! | 관리자 | 8468 | 2010.04.06 00:00 |
| 10 | New RHYTHM Controller:MUSE V Released | 관리자 | 9781 | 2009.09.03 00:00 |
| 9 | Wii fitness chager package Released | 관리자 | 7699 | 2009.09.03 00:00 |
| 8 | D.EAGEL COMBINATION GUN Released | 관리자 | 8346 | 2009.09.03 00:00 |
| 7 | HDMI CABLE Ver1.3A Released | 관리자 | 6082 | 2009.09.03 00:00 |
| 6 | DJMAX Trilogy official controller Released | 관리자 | 8900 | 2009.09.03 00:00 |
| 5 | PRO-PACERS WHEEL Released | 관리자 | 6323 | 2009.09.03 00:00 |
| 4 | Sweet Silicon Cover for NDSL Released | 관리자 | 6094 | 2009.08.02 00:00 |
| 3 | Wii Component Cables Released | 관리자 | 6214 | 2009.08.02 00:00 |
| >> | Colorful hard pouchs for NDSL Released | 관리자 | 6060 | 2009.08.02 00:00 |
| 1 | GAMMAC™ Brand Products opened on Gstar2008 Show | 관리자 | 5957 | 2009.08.02 00:00 |